The Internet is an impressive feat of humanity, and it continues to grow in size every day. Internet connectivity means worldwide communication and access to a wealth of information, but can also lead to potential threats towards the safety of your personal computer.
STOPZilla.com is committed to protecting its customers from computer viruses and other malware that they may encounter over the Internet. STOPZilla software is intuitive, user-friendly and backed by a staff of expert technicians.
About STOPZilla.com
STOPZilla was founded back in 2001 as a simple popup blocker, but has since evolved into a multidimensional antivirus platform that can protect a computer from a host of different viruses and malware. The site operates out of Boca Raton, Florida.
There are four different products that are available for purchase, and all can be easily downloaded for immediate use. STOPZilla Antivirus is the site's most popular product, and protects computers against a wide variety of viruses, malware and spyware. The software scans incoming data to stop any malicious software it detects before a problem can arise.
STOPZilla Antimalware is designed to remove only malware and spyware threats. This option is about half the price of STOPZilla Antivirus, but does not offer the same level of protection. The STOPZilla Optimizer program does not offer any long-term protection whatsoever, but can be used to clean a clogged up computer and speed up its performance.
If you are looking to protect your phone or tablet instead of your PC, STOPZilla.com offers antivirus software for android devices for only $9.95. Unfortunately, STOPZilla.com does not offer any software for Apple computers, iPhones or iPads.
The Best Features of STOPZilla.com
Customers can download a free trial version of any product sold by STOPZilla.com. This can help people to decide what level of protection they really need for their PC, and also familiarize potential users with the software's interface. The site is so confident that users will approve of STOPZilla's products that it offers a 30-day money back guarantee for unsatisfied customers.
The feature that has customers returning time and time again to STOPZilla.com is the company's stellar customer service department. You only have access to premium tech support as a paying customer, but you receive much better service than just help with product orders and payment issues.
Premium technical support services allow representatives to remotely connect to a computer, letting them solve customer issues immediately. In addition to virus removal, the tech support team can also help a customer to diagnose and fix general computer issues such as application errors and Internet connectivity problems. Tech support representatives will even help a customer to optimize his or her computer for maximum speed or to set up a complete home network.
STOPZilla.com also offers its customers access to educational and informational resources. The site operates a YouTube channel dedicated to showing members how to use STOPZilla products. There are videos on how to install the programs and reviews of helpful software features that are available.
Information about the latest new STOPZilla products and updates can be found on the site's social media pages. STOPZilla.com is active on platforms such as Facebook and Twitter, allowing the site to connect with its customers and keep them updated on the latest STOPZilla news. The website also runs its own blog, where patrons can find articles regarding the latest Internet scams and the newest viruses to watch out for.
Criticisms of STOPZilla.com
Some potential customers may be put off by the price of STOPZilla.com software. It is more expensive than some other similar antivirus programs, but the company is able to justify the high price by offering unparalleled customer service.
Customers who wish to discontinue the antivirus service, or do not want to purchase the product at the end of a free trial period, must remember to actively cancel their site membership. STOPZilla automatically bills a member's credit card each month unless instructed otherwise, and it is very difficult to obtain a refund.
Members that own an Apple PC, iPhone or iPad are not able to download and use STOPZilla products. This cuts out a significant portion of the population that needs protection from computer viruses and malware. There is no indication that the company plans to come out with an Apple version of their product anytime soon.
STOPZilla.com Customer Support
The customer support department of STOPZilla.com can be reached at any time by calling 1-877-877-9944 or by reaching out via live chat through the website. There is also an email form that customers with questions can fill out. For those that are currently using a licensed STOPZilla product, telephone and email support are both completely free. Customer support is easy to reach and is usually able to resolve issues quickly and effectively.
Frequently Asked Questions
Pros of STOPZilla.com
Excellent customer support
Free trial versions of products
Social media presence
Educational resources
Cons of STOPZilla.com
Expensive
No Apple version available
Why Should I Use STOPZilla.com?
STOPZilla.com sells programs that protect personal computers and mobile devices against viruses and malicious software. Along with an antivirus software program, customers who buy from STOPZilla.com also receive excellent technical support. Representatives will go above and beyond to rid your computer of malware and ensure that it is running at peak efficiency.
The antivirus services offered by STOPZilla are a little pricey, but world-class customer service never comes cheap. You are not only buying a piece of software, but also personalized 24/7 computer assistance. STOPZilla tech representatives can help customers with anything from virus removal to Internet connectivity issues.
The software and services sold through STOPZilla.com are ideal for those who are not entirely comfortable with computers. You can receive assistance at any hour of the day and have an expert walk through your issue with you. The technical support team even helps clients with other computer issues that they may have, whether the problem is related to STOPZilla software or not.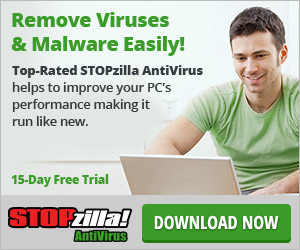 There are also resources available that may be helpful for computer novices. The STOPZilla.com YouTube channel includes detailed videos on how to install the software onto a computer or mobile device. Articles posted by the company on its Facebook and Twitter feeds can also help to keep beginners aware of new scams and viruses.
STOPZilla.com offers its customers comprehensive protection for their Windows PC or Android device. With its excellent technical support and variety of educational resources available, STOPZilla offers the ideal antivirus service for computer beginners. Tech experts will also benefit from the wide range of protective coverage offered and access to an exceptional customer support team.