About Law Depot
Not everyone is lucky enough to have a lawyer in the family and hiring a legal professional can get costly. Luckily, there are alternatives out there on the Internet for people who need to check to make sure they are abiding by the correct legal guidelines. One of these companies that aids with legal documents is LawDepot.com.
Law Depot boasts one of the easiest online legal forms services on the Internet. You can complete all its forms online using a simple-to-follow interview style questionnaire that will help you get everything finished properly. You also can preview the forms at no cost. Law Depot offers an array of documents that can be used in:
The United Kingdom
Australia
The company that has been assisting people with legal questions since 2002 and has quickly increased in rank, becoming one of the main sites on the Internet for legal assistance, all at the easy click of a button. The site has been accredited by the Better Business Bureau, with an A+ rating and has received numerous accolades and awards from the legal industry.
With over 4 million legal documents created, and over 2 million active customers, Law Depot does not provide legal advice, but instead gives its users general information on legal issues commonly encountered. In essence, LawDepot.com is the cheapest way for you to work through legal documents without having to hire a legal professional.
Top Features Of Law Depot
Upon first visit to LawDepot.com, you will notice how simple the site seems to be laid out. The site is organized in a way that makes it overall easy to find what you are looking for. There are numerous drop down features that can be selected from the drop down bar at the top of the screen. In addition, there is a prominent search bar in the middle of the screen, which can come in handy if you already know what you are looking for.
Law Depot's key features offer everything from Articles of Incorporation to power of attorney documents to US citizenship documents. Whether personal or professional, Law Depot covers a wide range of legal documents. The best part about the service is that it lets you take care of common legal procedures without ever leaving your home or office. Since everything is dealt with through the website, you are able to access the Law Depot services 24 hours a day, 7 days a week.
While other do-it-yourself legal sites only offer forms you can download and fill out yourself, Law Depot actually walks you through a series of questions that help them prepare a personal document with the correct information for you to download and print. Once you've completed the form, all you have to do is file it with the correct government agency.
LawDepot.com is so user-friendly that you do not have to be a computer whiz to use the system, nor do you have to know the latest legal lingo to figure out how to submit a request. The interview-style forms leave little room for error. You simply answer the questions and a form is generated specifically for you. The website interface is clean and attractive, and everything is clearly labeled. In general, you can locate anything you need on this site. However, occasionally it takes a few extra mouse clicks and some searching to find resources such as legal dictionaries.
One helpful feature on the website is the ability to save your legal forms in the profile that you create. Setting up a profile on the site is only for your overall protection. Not only does it keep everything organized, but it also allows you to access your documents anywhere there is an Internet connection. If you cannot complete them in one sitting, you can come back to them later. They are saved in your account.
You don't have to worry about your information ending up in the wrong hands either, since LawDepot has a strict policy when it comes to privacy. The company pledges to never sell your information to a third party for any reason. The service even goes the extra mile to make sure that the latest security devices protect its servers. In short, you should feel confident that you're dealing with a trusted company.
Another nice feature of the site is the Law Depot Law Library. This features is located under the Law Depot Menu tab at the top of the screen and will take you to many of the site's additional resources, including: a glossary of terms, a FAQs page, pertinent articles and descriptions of recent changes to the website. While the pop-up help that is available directly on the legal forms and questionnaires may negate the need for a legal dictionary, since it is a handy tool nonetheless.
Law Depot Prices
With Law Depot, users are able to receive first-rate quality legal documents without paying top dollar. Users can have total access to the site for $7.99 per month, with a one week free trial offer for new users. This payment plan is a little different compared to other competitors in the space which typically only charge per legal project. The site is generally flexible when it comes to its payment plans. While you ultimately are responsible for paying for the services rendered, you can either pay the entire fee upfront for the service or you have the option of selecting a payment plan.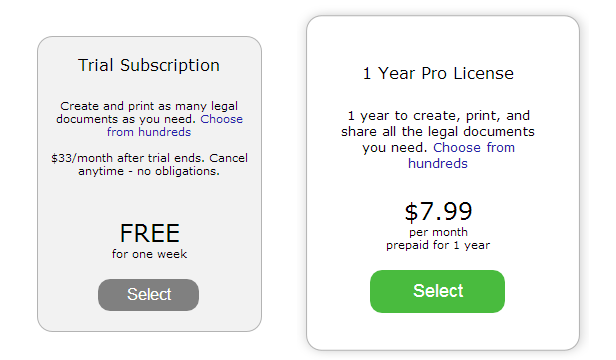 When all is said and done, the cost to keep the Law Depot services will come to ~$95 annually. This is really a small price to pay for unlimited legal document advice. For this one small fee, you will be given access to hundreds of legal documents. There is also a 100% satisfaction guarantee on all of the service that you are provided.
Criticism Of Law Depot
The main problem with Law Depot is that the site does not always offer the things that are listed on their site. When testing the Divorce category, four of the first five states that are clicked on weren't available on Law Depot. This tends to be the case with a few other sections as well. Ultimately, this is frustrating for the user who has already subscribed to the service and in many ways is a form of false advertising.
Law Depot's interface also seems to give many people some trouble. Although the home page is actually clean and easy to understand, once you dig a little deeper, the clean, consistent interface breaks down. Click on the Divorce section and it's as if you are on an entirely different site, with a different logo, top navigation and even functionality.
About half of the sections are consistent with the home page, but these other display pages make for a confusing user experience. The main issue here is the lack of consistency and uniformity throughout the site. This could all be easily resolved if the web designers just did a little tweaking and cleaning up.
Customer Support
Like anything else, the customer support that you receive from Law Depot really all depends on the professional who is assisting you on the other end of the phone line. In order to deal with any issues with your legal documents, you must deal directly with a customer service representative. They can be reached through e-mail or directly on the phone through a toll-free hotline.
The site makes it really easy to get in touch with representatives and posts the contact information on a stationary bar at the bottom of the page. You can also visit the Frequently Asked Questions section of LawDepot.com to see if you are able to have any of your questions answered prior to getting in touch with a representative. .
Final Thoughts
Dealing with legal documents can be a real pain. No one likes to read all the fine print and read page upon page of legal jargon. Luckily users have LawDepot.com on their side to help them out with all the annoying legal documents. Law Depot provides an easy-to-use and straightforward approach to legal forms. The only real drawback is that you cannot see the pricing of the document until you are at the purchase page.
Still, this service is great for consumers who have very little knowledge of the law. Law Depot is able to provide your documents to you in a timely manner and the best part is that you will not drain your bank account in the process! The service and support makes LawDepot.com the better choice than other sites in the category. Not only that, but the website provides you with piece of mind, knowing that the professionals at LawDepot.com have got your back!