Creative freedom for videos can be difficult to obtain, especially when the software used to make them is subpar. This is not the case with Vegas Creative Software, which offers performance, efficiency, and creativity. It is the future of video editing, with a number of unique options tailored to meet both professional and hobbyist needs.
About VegasCreativeSoftware.com
Vegas Creative Software got its start in 2003. What was once a beginner in the industry is now a top name that is well-known. In 2016, the brand was acquired by MAGIX. The MAGIX brand is known for its innovative software that is user-friendly. They have a quality promise to develop software that meets the needs of customers. The company has development teams in both the U.S. and Germany working toward creating solutions and building tools that will help guide the Vegas software into the future.
The goal of Vegas is to provide software to people at all levels of editing. Amateurs and professionals alike can find a program that meets their needs. The mission is to continually evolve Vegas software so that it is intuitive, efficient, and fast. Intelligent plug-ins are also a goal, which will allow the software to handle advanced editing techniques and make full HD recordings.
Top Features of Vegas Creative Software
Vegas Creative Software is easy to use. The software guides users through the steps so they can learn how to create impressive pieces. Some of the software options allow drag and drop options that make the process extremely simple.
The latest technologies are implemented in this software. This ensures users have access to all of the most updated information and can create advanced videos. All the technologies are detailed so people know what to expect from each one.
There are multiple options available with Vegas. Vegas Pro and Vegas Movie Studio are the two main software choices. The Pro option works well for workplace instructional videos and guides. Advanced computing power is included in this software. Movie Studio is intuitive and fast. It works well for those wanting to create a high quality video.
All software options come with the option to receive a 30-day free trial. This allows users to try out the editing software first so they can get the hang of it and determine if it is the best option for them. Once the trial period is over, there is no installing other versions. All it takes is making the purchase and entering the provided serial number, and the full version of the software will then be available to use.
Add-ons are also available. Vegas DVD Architect is one option. This software allows users to create their own DVD and Blu-ray discs. There are various backgrounds, buttons, and effects to choose from that are pre-set for movies. Personal photoshop files can also be integrated in order for users to create something that is entirely their own.
Vegas Creative Software Prices
Each software set comes at a different price. The suites that include the full range of options are full price, while the basic versions are less costly. There is also a price difference between the software types, such as Pro and Movie Studio.
Vegas Pro: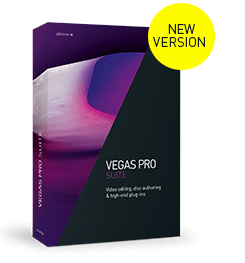 Vegas Pro Suite
$799.00
Video editing, disc authoring, and high-end plugins are all available with the Vegas Pro Suite. There is a 30-day free trial option to try it out, or it can be purchased directly. There is an expanded edit mode, as well as multicamera editing. Tags can be added to clips and pictures so items can be arranged appropriately. This intelligent arrangement option includes Media Bin folders where files are placed. Tags can be modified at once for any files within the same folder. A quick search tool allows files to be filtered instantly.
---
Vegas Pro Edit
$399.00
Professional video editing is offered with the Vegas Pro Edit. This is the heart of video production, providing core functionality to the overall production goal. Formats are in high resolution. Color match allows users to match colors between clips. Any 2D that require added depth can be worked on easily with this software. Horizontal offset adjustment tools are included that allow 2D designs to become 3D instead. 3D material can be corrected automatically with the auto correct footage. It will make correct deviations in the camera settings.
---
Vegas Pro
$599.00
Vegas Pro combines professional editing with disc authoring. It has everything needed to get through a basic project. Both video and audio can be edited in high resolution formats. This software includes powerful monitoring solutions that are optimized for editing 3D videos. Support for various file formats allows users to place different formats alongside one another on the timeline.
---
Vegas Movie Studio:
Movie Studio Suite
$135.95
The Movie Studio Suite combines four separate applications into one comprehensive software solution. NewBlue FX 3D Titling and Video Effects, HitFilm Effects, Sound Forge Audio Studio, and Movie Studio Platinum are all included. The software works on any system Windows 7 or higher.
---
Movie Studio Platinum
$79.95
The Platinum version offers editing and DVD creation. Color is instantly matched between two clips thanks to the Color Match technology, along with image stabilization that reduces shakiness. A simple set of images can be turned into a unique slideshow with just a few simple clicks.
---
Movie Studio
$49.95
Simplified video editing is available with the Movie Studio software. This basic version allows users to create movies, slideshows, and other videos. Help bubbles regularly pop up during the process in order to ensure even beginners can create a high quality movie. Music can be added as a soundtrack to enhance the experience.
---
Add-Ons:
Vegas DVD Architect
$99.99
A drag and drop interface makes DVD Architect easy to use. Both DVDs and Blu-rays can be made using this software. Windows 7 and above can operate the software, as long as there is at least 1 GB of space available. A professional DVD design and tons of HD menu templates are included.
---
Vegas Pro Production Assistant
Currently Unavailable
The Pro Production Assistant is the newest software being added to the Vegas family. It provides automation and productivity tools for editors. The newest option will be available soon.
---
Criticism of VegasCreativeSoftware.com
The main criticism of Vegas Creative Software in general is that it seems too advanced. This complaint is from beginners who have not had much experience with any type of editing software, not just the options from Vegas. The Movie Studio version especially seemed to be geared toward professionals in the past, with a difficult design to understand.
While this may have been the case in the past, there are now help bubbles that show up for guidance, as well as tips and information that are readily available for those who need it. The newest version is geared toward beginners and made with an easy-to-use interface. It just takes some time getting used to new software that has never been used before.
The cost of the software is also discussed regularly. Many free or low-cost options are out there that work well. The prices for this software seems steep compared to others on the market. The Vegas Pro solutions are more costly than the Movie Studio or add-ons, but this is because they are more professional options geared toward those in the market. Anyone that wants to create high quality videos to submit professionally needs high quality software that is worth the cost.
Customer Support
The Vegas Service Center is available to those who have questions about the software. Installation, registration, and other technical-related questions can be answered in this area. An extensive set of FAQs are included. Users can search through the FAQs for each specific software type, or check out the common questions, such as how to upgrade older products.
A community page is also included on the Vegas website. A search bar immediately pops up that allows users to search for a specific question or software type. Once submitted, the search leads to a variety of related answers from other Vegas users. This can allow people to quickly find what they are looking for, and help them realize they may not be alone in making mistakes with the software.
Before making a purchase, there is a sales number that can be called. A sales team member will be available to answer questions about the products and help device which software option may be best for an individual's specific needs. The number can be utilized between the hours of 9 a.m. and 4 p.m. Monday through Friday. It can be reached at 1-305-722-5810.
Final Thoughts
VegasCreativeSoftware.com offers a variety of information on each of its software choices. Anyone looking to create movies, professional videos, or simply edit a slideshow can get what they need from Vegas software.
The large variety of choices ensures each person can receive the exact option they need, and nothing more.
Both beginners and professionals can utilize this software brand.