If you know anything about sex toys, you are probably familiar with the Lelo brand. Though expensive, Lelo hails its products as the pinnacle of pleasure and functionality. But does the company and product deserve these accolades? Or are they just overpriced pieces of junk? In this article, we will take a closer look at what products the website offers, judge, if they are worth their price and answer some frequently asked questions.
What is Lelo.com?
Lelo is a Swedish company that started in Stockholm in 2003. The company claims that their products are the absolute best on the market — combining luxury and ease-of-use. The company hopes to combine the intimacy of human interaction with the efficiency of electronics.
In recent years the company expanded its line to include a broader range of products and designs, like lubricants, condoms, BDSM equipment and massage oils.
What Kind of Products Does Lelo.com Sell?
Lelo does not just produce a sex toy, but rather a whole range of exciting products — from oils to condoms. Lelo.com divides its products mainly between toys for women and men. However, there is plenty of overlap in all of the categories. We included them all and a brief description, so you can better understand the nuanced differences for each of them.
Sex Toys for Women
Lelo designs these products with the female form in mind.
G-Spot Vibrators
These products were explicitly made to reach and stimulate the g-spot. They include the Elise 2, the Mona 2, the Gigi 2, the Mona Wave, the Inez, the Soraya, the Liv 2, the Isla and the Olga. Prices typically range from $150 to $200, except for the solid gold toys, which can cost up to $15,000.


Clitoral Vibrators
Typically smaller and more compact, these vibrators simulate oral and hand movements when stimulating the clitoris. They include the Sona Cruise, the Sona, the Nea 2, the Lily 2, the Mia 2, the Ora 2, the Alia, the Siri 2, the Smart Wand – Large, the Smart Wand – Medium, and the Yva. Prices range from $100 to $200.


Rabbit Vibrators
These vibrators are specifically designed to simulate the "come hither" motion of a finger. They include the Ina Wave, the Soraya, the Ina 2 and the Ida. Prices for these models typically start around $200.


Personal Massagers
These toys can be used both for genital stimulation or for a full body massage. They include the Alia, the Siri 2, the Liv 2, the Smart Wand – Large, and the Smart Wand – Medium. Prices for these models usually range between $100 and $200.


Bullet Vibrators
These smaller vibrators can be inserted vaginally and then controlled with remote control. They include the Hula Bead and the Lyla 2. Prices for these models are a little less than $200.


Ben Wa Balls
These toys stem from an ancient Chinese tradition. The balls are inserted vaginally and then used during sex or workouts. They include the Luna Beads, the Hula Beads, the Smart Bead, the Luna Beads Noir, and the Luna Beads Luxe. The price for these products ranges from $50 to $150, except for the solid gold Luna Beads Luxe, which cost $3,000.


Sex Toys for Men
Lelo designs this product with the male form in mind.
Prostate Massager
Lelo designs these products for men who crave a more satisfying orgasm. They include the Loki Wave, the Hugo, the Bruno, the Loki and the Billy. Prices for these models range from $140 to $200.


Butt Plugs
These toys are designed for repeated anal stimulation. They include the Hugo and the Earl. Prices for this two range from $219 to $2590.


Vibrating Penis Rings
These rings go around the penis, making it harder and more pleasurable during sex and masturbation. They include the Tor 2 and the Oden 2. Prices typically start around $120.


Accessories
Lelo.com designed these products for you to use in tandem with their toys or for maintenance.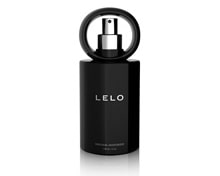 Water-based Lubrication
This product can be used individually or by couples as a sexual aid. The personal moisturizer cost $25.


Sex Toy Cleaner
This product is used to sterilize sex toys after extended use. The Lelo Cleaning Spray contains mostly alcohol and costs $10.


Massage Oils & Candle
Lelo designs these products for sensual body rubs and atmosphere. The Flickering Touch Massage Candle is made explicitly with soy-based oils that can be applied to the skin after burning. The candle costs $35.


BDSM Gear
If you want to experiment with constraints, tickles, and spanking sensations, then BDSM gear is for you. The products include BOA Pleasure Ties, Tantra Feather Teaser, Sensual Suede Whip, Etherea Silk Cuffs, Sutra Chainlink Cuffs, and the Intima Silk Blindfold. Prices for these products range from $30 to $100.


Picobong
For people who are new to a sex toy, the Picobong category is simple and cheaper options for people who want to experiment.
Picobong Sex Toys
This category is a collection of beginner sex toys to start with when experimenting with toys. They include the Ipo 2, the Honi 2, the Ako, the Zizo, the Kiki 2, the Transformer, the Moka, and the Kaya. Prices for these products range from $40 to $100.


Picobong App-Controlled Sex Toys
For beginners interested in remote-based toys, these products can easily connect with your smartphone. They include the Remoji Blowhole M-Cup, Remoji Lifeguard Ring Vibe, Remoji Surfer Plug Vibe, and the Remoji Diver Egg Vibe. Price range from $100 to $140.


Condoms
For couples that want designer-quality condoms, Lelo also offers its brand of condoms. You can purchase these condoms at Walmart stores.
Hex Condoms
These hexagon shaped condoms provide superior comfort and a slight feeling during sexual intercourse. They are also available in an extra large size. A package of 36 Hex Condoms costs $35.


Are the Products Lelo.com Offers Worth the Price?
For being a high end, luxury sex toy maker, you would think the expensive nature of the product would justify superior design and functionality for the product. Unfortunately, this is often not the case — many of the products featured on Lelo.com do not seem to warrant their hefty price tag.
The biggest problem with Lelo products seems to be the electronics within them. Often products that claim to have multiple vibrating settings only have one weak one. The Smart Wand is notorious for this problem.
Another problem is the shape and sizes of the products. Though the sex toys for sale on Lelo.com look modern and luxurious, they often do not fit many individuals that buy them. The company could fix this problem by introducing different sizes for each model, but instead, it spends more money on celebrity endorsements from people like Amber Rose.
While it is true that some people swear by Lelo products, it would seem an increasing number of them are becoming disenchanted very quickly. In recent years there has been a massic decline it quality amongst many of the Lelo products. Poor or disappointing vibrations are the chief complaint amongst Lelo users.
Lelo.com Frequently Asked Questions
Here are some frequently asked questions by Lelo users in regard to their shipping information.
Q: How Long Does It Take Lelo to Ship Its Products?
A: Lelo usually ships its products within two days of the order. Users can expect to receive their pack generally within five business days.
Q: How Do I Track My Order on Lelo.com?
A: After you place an order, you should receive an email confirming your order. In this email, you will find an order number. Take this order number and email customercare@lelo.com with your tracking request.
Q: Does Lelo.com Allow Refunds or Exchanges?
A: If there is something wrong with your product you can return it for a refund. However, it must be unopened and unused and returned in fourteen days.
Q: How Long Do Hex Condoms Last Before Expiring?
A: Hex condoms last around five years before expiring.
Q: Are Hex Condoms Vegan-Friendly?
A: Yes, the Hex condoms contain no animal by-products so they are vegan.
Q: Can I Use Silicone-Lubricant With Lelo Products?
A: It is best not to use silicone lubricant when using Lelo sex toys as this can damage them. Instead, try a water-based lubricant.
Lelo.com Final Thoughts
For the most part, Lelo products are not worth the price they charge. While some consumers are more than happy with the sex toys they order, a significant amount report difficulty or malfunctions while using them. Products that cost this much for a small piece of plastic should probably function they way they are supposed to work if the company expects people to keep buying them.
But, like the popular Beat headphone series by Dr. Dre, most of the price tag for Lelo product goes toward the brand name. While owning a Lelo sex toy is fine if you want it as a status symbol, there are undoubtedly cheaper and more effective sex toys out there.